Covid-19 notice:
This is a great time to start planning for next year's exhibitions. Of course this year has seen most trade events being cancelled. Therefore we expect a big boom when they well do reopen. Which means all benefits will be increased, such as press exposure, investments and new potential clients. But it also means you'll have to be prepared to go the extra mile in order to truly stand out from your competitors.
What we offer is a full service package where we take care of everything. From finding the most relevant trade show, writing a cohesive strategy and designing marketing material to building the booth, helping you man it and document leads.
We can be the only contact you need to interact with through the entire project and our duty is to make sure that you don't overspend on unnecessary measures and invest in measures that will make you stand out above the crowd. Our strategy focuses on cost and effect. First we identify what your unique goals and needs are and then depending on that, we find the most cost effective actions for your business.
We help you answer questions like:
- What events are the most effective ones to visit?
- Do you really need a gigantic booth? Higher impact requires a bigger investment.
- How do you stand out among your competitors?
- How are you going to be more relevant to your
customers, press and investors than your competition?
- How are you going to attract people to your booth?
- How are you going to keep them there?
- How do you make sure they remember you afterwards?
- How will you calculate your return of investment? etc…
So how much does this usually cost? It all depends on the size of the exhibition, what your competition looks like and how much of an impact you aim to do.
But what we do is look over your company's yearly revenue and how much money you usually make per client. This way we can give you a number which places your exhibition in the sweet spot where it's affordable for you, but still maximizes your chances of making a good return of investment.
So far all of our clients have ended up making more money from exhibiting than they invested.
Here are some example pictures of our lower end booth and booths from our competitors of the same size.
Note that our booth stands out more from the crowd, the booths around used a generic red design to fit the theme of the show. Same goes for our competitors, they all look rather generic and similar to the surrounding booths.
All three booths would generate roughly the same results, but in the end our was around 30% cheaper, using a novel hand crafted wooden design while the others went for the standard cardboard and plastic ones.
Our booths are always reusable as well. These booths are around 6x3 m which is on the smaller end, we can of course do bigger ones with a higher impact.
Ask us what Soliton Solutions PR can do for you!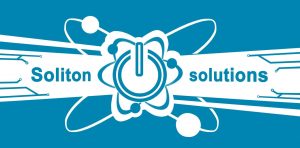 Author Profile
Johny (John-Erik) Krahbichler is an exhibition specialist at Soliton Solutions and an experienced tech-journalist. Mr. Krahbichler's main expertise lies is in the consumer electronics industry as well as business & marketing strategy.

Currently Johny is using his experience from covering trade shows such as the CES to work with trade show exhibition marketing.